We invited the Chairman of the First Weekend Club board of directors Paul Gratton, who is a passionate cinephile with a particular love for and knowledge of French Canadian Cinema to select some of his favourite films for our new channel.
Paul provides a beautiful introduction to Quebec cinema and then offers a brief overview of his 12 recommended titles which you will find below. In addition, we invited the National Film Board of Canada to pair each feature film with a short French Canadian film, which we are offering as a complimentary viewing.
We believe this is a great introduction to some of our country's finest French language films! We hope you'll agree!
Here are a few words from our Chairman Paul Gratton: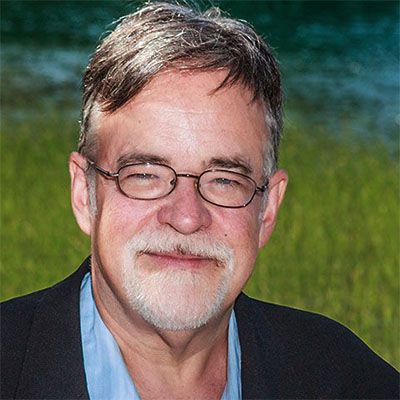 "There is little doubt that much of the finest that Canadian cinema has had to offer has come out of Quebec. The reasons for this are numerous and complex. Beginning in the 1960s, when in-house directors would "borrow" NFB equipment to shoot their own features on the sly, cinema was a significant component of the cultural revolution of the times. But it wasn't until some years later that a populist cinema emerged,. Beginning with the early box office success of softporn and genre films in the early 70s, it soon became apparent that Quebec filmgoers were willing to support commercial filmmaking that reflected their own realities, language and culture. Producing movies for an actual supportive audience has certainly been a key component of Quebec cinema's ongoing success. Provincial financial support from the SODEC has also gone a long way to encouraging the development of exceptionally talented directorial voices. Today, it is somewhat harder for Quebec films to attain the huge box office grosses of say a decade ago, but the best of Quebec cinema continues to travel the world and win awards, and many Quebec releases still generate theatrical grosses that are the dreams of most English-Canadian films. Visiting a French-language movie complex in Quebec is like entering an alternate universe: not only are homegrown movies being shown, but a multitude of posters and upcoming trailers draw attention to domestic releases. Indeed, many of the best Quebecois filmmakers have now graduated to directing Hollywood blockbusters. This collection of recent Quebecois films serves as a cross-section sampling of some of the most popular films of recent years, as well as some of the most critically acclaimed films directed by filmmakers who are now attracting international acclaim. Enjoy."
The Three L'il Pigs 2 (Les 3 p'tits cochons 2)
Directed by: Jean-François Pouliot, with Paul Doucet, Guillaume Lemay-Thivierge and Paftrice Robitaille.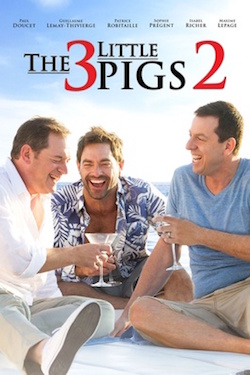 The original Three Little Pigs, directed by Patrick Huard in 2007 was a huge hit in Quebec. This enormously popular follow-up from hit-maker Jean-François Pouliot (Seducing Dr. Lewis, remade as The Grand Seduction, and Snowtime! The cartoon remake of The Dog That Stopped the War) picks up on the story of the three chauvinist brothers only a short time after the conclusion of the previous film.
Remy is the most successful of the three brothers, an accomplished businessman, with a beautiful wife and an exciting travel-filled lifestyle. He also revealed that he is actively bisexual at the conclusion of the first film, and his extra-marital dalliances on the wild side have led to him being thrown out of his family abode soon after this episode begins.
This occurs just as his younger and handsomer brother Christian, needing a place to crash, is moving into a guest room in his brother Remy's large home. Sexual sparks fly between Remy's angry estranged wife and the younger, very heterosexual Christian.
Meanwhile, the third brother, Mathieu, is having his own sexual and financial challenges. The results are a laugh out loud French sexual farce featuring boner sight gags, close calls, slammed doors and all the sibling rivalry that inappropriately juvenile sexual hi-jinks can engender. Highest grossing Quebec film of 2016. 79% Fresh, Rotten Tomatoes.
The Mirage (Le mirage)
Directed by: Ricardo Trogi, with Louis Morissette, Julie Perraeault, Patrice Robitaille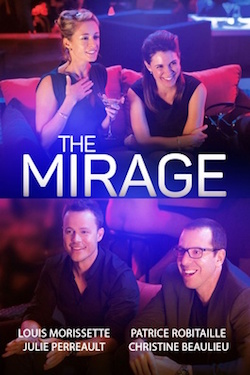 The second highest grossing film of 2015 (narrowly edged out in the final weeks by the animated hit Snowtime!), this is a surprisingly insightful comedy-drama about a man going through a mid-life crisis. Patrick's business is secretly failing, his marriage is in the doldrums and his eyes are wandering.
The exigencies of parenthood are such that he can't even find a moment of privacy to visit his favourite fantasy porn sites in peace (some of the film's funniest sequences). Everyone around him seems obsessed with accumulating material possessions, and he starts to wonder what the purpose of it all is.
Feeling lost, he makes a totally inappropriate pass at his wife's best friend, a really dumb, self-destructive move that brings the whole house of cards crashing down around him. Suddenly, Patrick has to deal with the real-world consequences of acting on one's impulses, and realizes how precious were the relationships and the family ties that he has now put in jeopardy.
Director Trogi has made two of the funniest coming-of-age movies in Canadian film history with 1981 and the follow-up 1987, about growing up Italian within Quebec society. In Le mirage, he has produced the perfect date movie: the sort of film that you might want to share and discuss with any long-term loved ones in your life. One of the best Canadian films of 2015.
"Le mirage is certainly the best Quebecois film presented on screen so far in 2015" Elizabeth Lepage-Boily, Cinecoche.
Louis Cyr (Louis Cyr, l'homme le plus fort au monde)
Directed by: Daniel Roby, with Antoine Bertrand, Gilbert Sicotte, Gil Bellows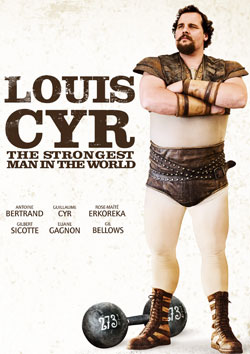 The highest grossing Canadian film of 2013, this true-life biography of self-made strongman Louis Cyr is that rarest of Canadian creations, a true-life inspirational historical biopic. Louis Cyr was a dirt poor and illiterate French Canadian born near the end of the 19th century, who turned his natural-born strength into a successful carny-style roadshow.
He could lift huge logs and tree trunks and tables laden with many people with the greatest of ease. He extensively toured North America and Europe making money for his family and establishing world records for weight-lifting, some of which still stand to this day.
And of course, at a time in history when French Canadians were a largely subjugated underclass, Louis Cyr became a symbol of frustrated aspirations and cultural pride in much the same way that hockey great Maurice Richard came to symbolize all that was great about being an exceptional French-Canadian athlete two generations later.
As the years go by, and his strength starts to wane (he died at a young age from complications of the liver), Louis Cyr became increasingly obsessed with securing his place in history. Protecting his legacy even comes at the price of alienating his daughter, who wants to follow in Daddy's footsteps.
A complex character study, with exceptional period detail, Louis Cyr is an ambitious and largely successful study of one of Quebec's most intriguing popular historical figures.
"Antoine Bertrand is particularly atttractive in the lead role, dialing his character's grandeur up or down when necessary." Edgar Chaput, Sound on Sight.
Gabrielle
Directed by: Louise Archambault, with Gabrielle Marion-Rivard, Alexandre Landry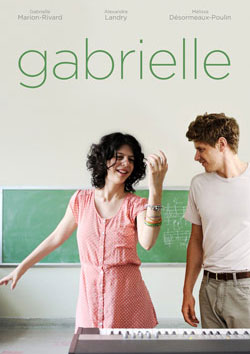 Canada's official entry in the 2014 foreign-language Oscar race is an exceptionally moving and unusual love story between two developmentally challenged young adults, whose desire for each other causes untold angst amongst their care-givers, who don't know how to manage the demonstrations of love, lnging and lust, while seeking to keep the two young adults safe from harm.
Lead actress Gabrielle Marion-Rivard, who was born with Williams syndrome, gives a performance that is searingly honest and humane, as her character struggles to live a life with as much independence as possible.
The film climaxes with a lovely open-air concert featuring Quebec icon Robert Charlebois, whose classic song about taking off to faraway places on international airlines encapsulates the longing for personal freedom embodied by the two lead characters.
"An absolute joy" Scott a. Gray, Exclaim!
It's Only the End of the World
Directed by: Xavier Dolan, with Nathalie Baye, Marion Cotillard, Vincent Cassel, Lea Seydoux and Gaspard Ulliel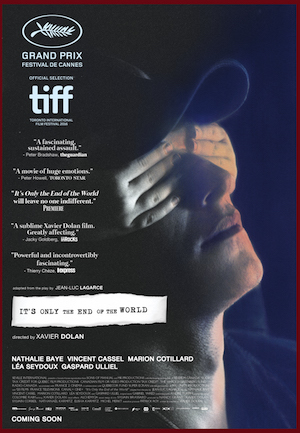 Canada's official entry in the 2016 foreign-language film Oscar race, this controversial entry was selected for the Academy Award short-list. Its screening at Cannes had been very divisive. Usually a critical darling, Dolan's press screening was marred by walk-outs and some catcalls.
While some critics defended the film's bold artistic vision, Dolan was saddled with some of the most devastating reviews of his career. But vindication was waiting around the corner. The public screening resulted in warm applause and the film, much to many critics' surprise and disapproval, went on to win the Grand Jury Prize at the Cannes Film Festival, as well as the Prize of the Ecumenical Jury!
What a roller coaster ride for the young talent who had sat on the jury at Cannes himself the previous year. In interviews, he candidly admitted to feeling somewhat shell shocked by the most polarized reviews of his young career, especially for a film that he felt was his most accomplished.
Based on a play by Jean-Luc Lagarce, it tells the story of Louis, a writer who returns to his village after a long absence to tell his family that he is terminally ill (presumably from AIDS, though the disease is never named). Shooting in a square screen ratio, and mostly in extreme close-ups, Dolan is working for the first time with a top-notch French cast.
There is much in your face screaming and family dysfunction, as long-standing resentments and jealousies inevitably rear their ugly heads. This is especially true in regards to explosively angry and resentful Antoine, brilliantly played by Vincent Cassel as a volcano of toxic poison, ready to erupt at any moment at the slightest provocation.
The themes are not new ones for Dolan, and the performances he elicits have never been better, so one can only assume that it was the uncompromising nature of his approach to the material that so alienated many of the critics.
In many ways, as difficult as it is to watch at times, this really is the purest distillation of Dolan's themes and approach to cinema so far.
"Deliberately pop-eyed in its madness—and yet a brilliant, stylised and hallucinatory evocation of family dysfunction." Peter Bradshaw, The Guardian.
Mommy
Directed by: Xavier Dolan, with Anne Dorval, Suzanne Clément, Antoine Olivier Pilon and Patrick Huard
If you only see one Xavier Dolan film in your life, this is probably the one to see. It seems to encapsulate all the major themes that have driven his films thus far, especially in its depiction of a fractious, hysterical, bipolar love between a violence-prone, emotionally challenged son and his working class mother who can dish it out as good as she gets.
The screaming love/hate relationship between mother and son is given new hope when a mysterious neighbour inserts herself into the middle of the truly dysfunctional family.
The performances are simply amazing, and the film has won 49 international awards, including eleven at the Canada Screen Awards, including Best Picture, Best Director, Best Actor, Best Actress, Best Supporting Actress, Best Screenplay, and Best Cinematography.
It also won the Jury prize at the 2014 Cannes Film Festival, and every award imaginable at the Jutra Awards.
"Dolan is a director who thinks hard about the possibilities of cinema and explores them with verve and ingenuity, but it is in his latest film that everything has come together." John Bleasdale, CineVue.
Laurence Anyways
Directed by: Xavier Dolan, with Melvil Poupaud, Nathalie Baye and Suzanne Clément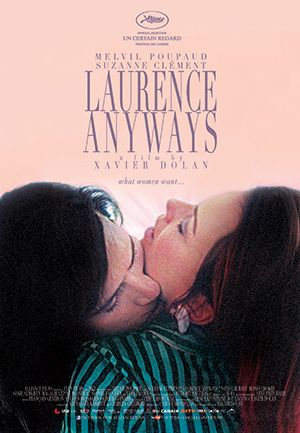 In chronicling an exhaustive (at 168 minutes) and detailed drama that charts ten years in the relationship of a transsexual's relationship with her lover, Dolan at first seems to be charting unsung and new thematic territory.
But at closer glance, he really is exploring many of the same themes that have defined his work so far, particularly with regards to navigating the fraught emotional landscapes that unconventional sexual orientations seem to engender.
Clément is memorable as usual as a woman in love with a man who at first just seems to want to cross-dress, but soon reveals a deep-seated need to cross over completely and live his life fully as a woman.
"I changed my address. You changed your sex." is one of the many great lines in the movie. This one did not play in the main competition at Cannes in 2012, but rather in the oftentimes more adventurous sidebar event known as Un Certain Regard.
There it won a Best Actress award for Suzanne Clément and the Queer Palm award for Best LGBT film at the fest. It also won the Best Canadian Feature award at the 2012 Toronto International Film Festival.
"Unwieldy and unkempt but both moving and dizzying to experience, Laurence Anyways is Dolan's grandest statement yet." Kevin Jagernauth, The Playlist.
Incendies
Directed by: Denis Villeneuve, with Mustafa Kamel, Rémy Girard, Maxim Gaudette, Mélissa Désormeaux-Poulin and Lubna Azabal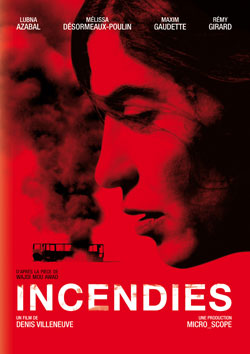 People who are blown away by Denis Villeneuve's incredible success in Hollywood with award-winning movies such as Arrival, Prisoners and Sicario may not be surprised to learn that he honed his craft for years on memorable and award-winning Quebecois films.
After the grueling Genie winning study of the "Polytechnique" mass shooting in Montreal, Villeneuve decided to tell a more internationally resonant story in his next outing Incendies (Fires).
It is the story of two Quebec twins who journey to the Middle East to explore their family roots and fulfill their mother's last wishes.
What they discover about the violent background that their mother had escaped from will shake their view of the world, and their place in it, to its very core. Based on a play by Wajda Mouawad, the film unfolds at times like a real thriller, and serves to remind complacent Canadians that many of us are the children of immigrants, separated from the harsh realities of war and conflict by sometimes less than a generation.
The film has surprise revelations and plot twists that it would be unfair to reveal here, but it is never less than riveting. It represented Canada in the foreign-language Oscars in 2011 and won the Genie for Best Picture, Best Director, Best Screenplay, Best Actress, as well as four technical awards. It also cleaned up at the Jutra awards the very same year.
"The storytelling in Incendies strikes me as primal the way Greek tragedy is primal. Shattering. Cathartic. It is a breathtaking film." Bob Mondello, NPR.
Monsieur Lazhar (M. Lazhar)
Directed by: Philippe Falardeau, with Mohamed Fellag, Sophie Nélisse and Emilien Néron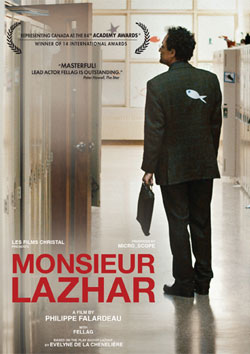 A beautiful low-key heartwarmer of a film that defies anyone to hate it. M. Lazhar tells the simple story of an Algerian substitute teacher at a Montreal public grade school, who takes on the thankless task of teaching a class whose most popular teacher committed suicide in her classroom.
While helping the students deal with their trauma in the gentlest of ways, it is gradually revealed that our self-effacing professor has his own loss to deal with. Director Falardeau burst on the scene with his hilarious mockumentary, The Left-Hand Side of the Fridge in 2000.
Subsequent highlights included the acclaimed political comedy-drama Congorama and the flat-out political comedy My Internship in Canada. Following in his fellow countrymen's footsteps, he has ventured out into American studio films, making The Good Lie with Reese Witherspoon and this year's The Bleeder, a true-life boxing biopic with Live Schrieber and Naomi Watts.
M. Lazhar represented Canada in the 2012 Best Foreign-language Oscar race, and won Best Picture, Best Director, Best Actor, Best Actress, Best Screenplay, Best Editing and Best Cinematography in the 2012 Genie awards. It won similar accolades in the 2012 Jutra awards.
"It's an exquisite, humanistic and subtly topical work of cinema art that manages to keep the intimate, revelatory sensibility of a one-act play intact while fleshing out the characters." Jennie Punter, The Globe and Mail.
Café de Flore
Directed by: Jean-Marc Vallée, with Vanessa Paradis, Kevin Parent, Evelyne Brochu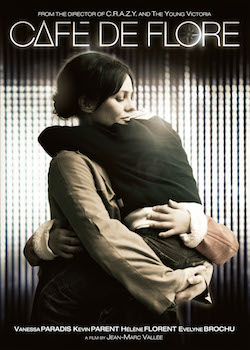 A beautiful, wistful, haunting film about the love between a man and a woman, and the love between a mother and a son.
The director of everyone's favourite coming-of-age story C.R.A.Z.Y. returned with this story of parallel connections, one chronicling the story of Jacqueline, a mother in the 1960s dealing with her disabled son, and Antoine, a recently divorced Montreal DJ who meets his romantic soul-mate.
As usual in a Vallée film, the film is propelled by an amazing soundtrack, from Sigur Ros to Pink Floyd. This is a film that loses everything if you try to explain its magic. It just has to be experienced on its own.
It is that enchanting. Vallée has gone on to great acclaim in Hollywood, directing the award-winning Dallas Buyers Club, The Young Victoria, Wild with Reese Witherspoon and Demolition with Jake Gyllenhaal and Naomi Watts.
In 2012, Café de Flore played at the Venice Film Festival, and won Genie awards for Best Actress, Best Visual Effects and Best Make-up as well as Jutra awards for Best Actress, Best Art Direction, Best Cinematography and Best Hairstyling. It won Best Canadian Film at the 2012 Vancouver Film Critics Circle.
"The film is generous to all its besotted creatures, and to the audience as well. Viewers who fall in love with Café de Flore will find that it loves them back." Richard Corliss, Time.
My Intership in Canada
Directed by: Philippe Falardeau, with Patrick Huard, Suzanne Clément, Paul Doucet and Micheline Lanctôt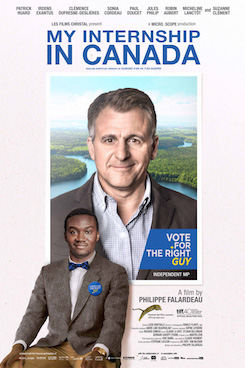 It is very rare to find a political satire masquerading as a feature length comedy in Canadian film circles. But director Philippe Falardeau has a rather unusual background.
He actually studied Canadian politics and international relations before embarking on a film career (by winning a 1993 tv contest in which he got to tour the world making short films along the way).
Perhaps best known for his films Congorama and especially M. Lazhar, this one will have you laughing out loud. Based on "true events yet to happen", an independent MP from rural Quebec suddenly finds himself in the very powerful position of holding the tie-breaking vote in Parliament that will determine whether or not Canada will go to war.
A Stephen Harper type Prime Minister, played by Paul Doucet, promises all kinds of local advantages to the forgotten region if only Guibord, a former hockey star, will vote to support the proposal. His leftist daughter is appalled that Daddy seems willing to trade off principles for the betterment of his own community.
He is a morally weak-kneed protagonist, having to deal with local logging protests from the indigenous community and pressure from his hawkish wife. An idealistic young Haitian has come to the rural enclave to study North American politics, and quickly comes to the conclusion that the cynical way we do things is beyond comprehension.
Yet Souverain's idealism may prove far wiser than any of the overt manipulations so typical of self-serving politicians. The film played at the Locarno Film Festival, was nominated for Best Film at the Genie awards, and won a Special Jury Citation at the Toronto International Film Festival.
"There hasn't been a better time or film to remind Canadians of all the positives and negatives within their political system. It's a great blend of pride, outrage and humour." Andrew Parker, Toronto Film Scene.
Starbuck
Directed by: Ken Scott, with Patrick Huard, Antoine Bertrand and Julie Le Breton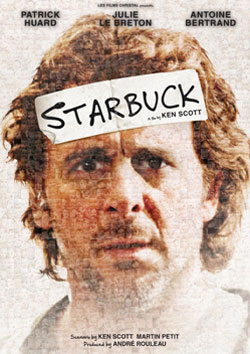 A huge hit in its native Quebec, Starbuck has such a great premise for a sentimental comedy that it was remade as an American film by Dreamworks under the title Delivery Man, starring Vince Vaughn. But frankly, it is Ken Scott's original that has the most charm.
Patrick Huard is ideally cast as a working-class nobody who suddenly learns that he has squired 533 children over the years from back when he was donating sperm to make a few bucks on the side ($35 a shot, to be precise). 142 of the children have filed a class action suit to find out who their biological father really is.
Currently, the suit identifies the father only as Starbuck, the name of famously fertile Canadian bull. Meanwhile his current girlfriend, a policewoman, announces that she is pregnant as well. This is a man with rather average intelligence, low ambition, but shall we say, extremely high motility.
Curious about what he has unleashed, David starts to surreptitiously drop in on some of the children he has helped bring into the world to see how they are doing and if he can help some of them a bit. Director Scott has a writer's gift for finding high concept comedy premises.
He wrote the original version of La grande séduction (Seducing Dr. Lewis), which became a hit in both its original Quebecois version and its English-language remake known as The Grand Seduction. He directed the remake of his own film Delivery Man in Hollywood, and also wrote the hit film The Rocket about Maurice Richard.
Starbuck won the Best Original Screenplay award at the 2012 Genie awards as well as the Golden Reel award for highest grossing Canadian film of the year. At TIFF, it came in third place for the coveted Peoples' Choice award.
"This is a clever device for building a lot of story-line DNA quickly, and the good-looking film's script…wring(s) some unexpectedly poignant moments, plus a number of big laughs, from passing encounters. " Ken Eisner, The Georgia Straight.